The bar is equipped with a number of large TV screens showing a wide range of sporting events, including live Premiership Football, Champions League and International fixtures on SKY and BT Sports, with a pool table and dart board available to play.
Situated in the village of Seascale, set back off the road by the newly opened Cumbrian Lodge and opposite the tennis courts, just a short drive from the Sellafield site, the Windscale Club is fully licensed.
There is a large function room available to book with a small £40 deposit, the function room has the capacity to hold 100 pax and can be used for wedding receptions, christenings, funerals and over 18 birthday parties. Due to the current COVID-19 pandemic any restrictions that are in place at the time will be followed.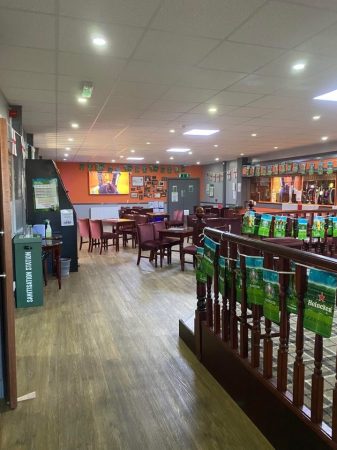 £24 single
£36 family, includes 2 adults and children under 18
All members of SASRA, including Gym, tennis, cricket etc, are eligible for our loyalty scheme. When you enter the club, show proof of your membership to the bar staff, then every £1 you spend you earn back 6% credit on your account to spend in the bar later.
Monday: 4.00pm – 10.00pm
Tuesday: 5.00pm – 10.00pm
Wednesday: 5.00pm – 10.00pm
Thursday: 5.00pm – 10.00pm
Friday: 7.00pm – 11.00pm
Saturday: 4.00pm – 11.00pm
Sunday: 4.00pm – 10.00pm
When you contact us, whether by telephone, post or by e-mail, we collect the data you have given to us in order to reply with the information you need. By contacting us, you agree with the storage and handling of your data by SASRA Ltd. View our Privacy Policy for more information on how your data is used, managed and protected.
Although we do not do food we allow customers to bring food in.
There are a couple of takeaways located within the village, just a couple minutes' walk from us. We also have a fish and chip van 'Heavenly Fish and Chip on the go' that comes into our car park every other Monday, not including bank holiday. Check our Facebook page to find out the next time they are here.
Due to the current pandemic we do not have any clubs running at the moment but keep an eye out for more information here or on are Facebook page @windscaleclubseascale
The staff here at the Windscale Club would like to say a big thank you to everyone that has continued to show their support for us though these difficult times.